Danny Greene was an Irish American mobster who, during the 1970's, competed for a while against the Mafia for control over Clevelands rackets.
Early Years
Greene was born in Cleveland in November 1933. His mother died of complications from birth. His father felt unready to take care of his child and therefore Greene was taken to an orphanage. His father remarried and at age 6 he was brought back home.
In 1951 he was expelled from school and joined the military. Because of behavioral problems he was frequently transferred. In 1953 he was honorably discharged. Next he took a job on the docks as a longshoreman and was quite popular with the other workers. When the longshoremen Local was in need of a new president, Greene became a candidate and won. He was fond of Irish history and regarded himself to be a "Celtic Warrior". This also probably sparkled his criminal ambitions. His fondness of the Irish culture became more clear in his appearance. His office was painted green, he wore green and even drove a green car.
Entering criminal live
Due to his involvement in the labor union Greene came to notice of Alex "Shondor" Birns, a Jewish-American racketeer. By this he also became affiliated with the Cleveland Mafia, which was then under the rule of Frank Brancato. However, Greene started to do things his own way and that created a fuss between him and Anthony Frato. The dispute ended with Greene shooting Frato in 1971. Not long after a hitman tried to kill Greene, but missed his shot and had to flee when Greene pulled out his gun and returned fire.
Gang war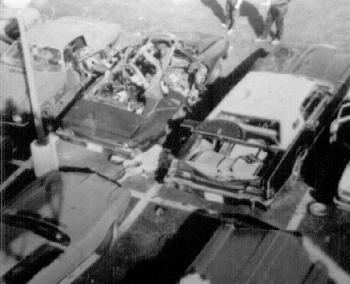 The bombed car of Danny Greene
Because of the growing tensions Greene moved away from his family and rented a place in Collinwood. He formed a crew of young Irish-American men and forged a deal with Mafia member John Nardi, who wanted to overthrow the current leadership. By that time the Mafia had hired several small time crooks to kill Greene but none of them succeeded. On one occasion Greene discovered an unexploded bomb in his car. In 1975 his former companion Alex Birns was blown up by a carbomb, which had been planted on orders of Greene. About a month later the apartment of Greene was blown up, but no one was injured. During his feud with the Mafia Greene did succeed in taking over the thriving vending machine business. One of the Mafia henchmen looking our for their interests, John Conte, was beaten to death.
In 1976 about 35 bombs exploded in Cleveland. By that time
James Licavoli
had become the new boss of the Cleveland Mafia. Because he had been targeted numerous times and constantly escaped unharmed, Greene began to think of himself as being invincible. He granted to be interviewed by journalists and smiled to the camera. However, in 1977 things began to turn. Nardi was murdered and on october 6 luck had ran out of Greene to. After going to a dental appointment his car exploded, killing Greene instantly. The bomb had been planted by Ray Ferritto.