Ciro "The Artichoke King" Terranova was an early leader of the
Morello family
, now known as the Genovese family. His blood family consisted out of many notorious and influential gangsters such as the legendary
Giuseppe Morello
,
Lupo Saietta
and his brothers
Nicholas
and Vincenzo Terranova.
Early life

Ciro Terranova was born in Corleone, Sicily, in 1887. His family (consisting out of a couple of sisters, brothers and half brothers) moved to New York in Spring 1892 to meet up with Ciro's half-brother
Giuseppe Morello
, who had arrived six months earlier. Due to lack of work in the New York area the family only stayed there for about a year. They would eventually travel to Louisiana where his father planted sugar cane as a living before moving to Bryan, Texas. While in Texas they worked as cotton pickers, but malaria struck the family after two years and they moved back to New York in 1896. In 1909 Ciro married a woman named Tessie Catania (b. 1892), a relative of
Joseph Catania
. In 1913 the couple had it's first child, a girl which they named Angie Terranova. During the 1910's Ciro worked as a plaster contracter for 'Morello & Company', which was owned by his half-brother.
New York

In 1903 Giuseppe Morello and many of his associates were charged with the barrel murder (as it was dubbed by the press), but was released due to lack of evidence. This however put their name on the map. On a regular base members of the Morello gang were searched and harassed by the police, who wanted to put an end to the Morello's counterfeiting ring. Ciro, his brother Vincent and Nicholas Sylvester were once arrested without reasons on their way home from work. When
Ignazio Saietta
and Morello were sent to prison on counterfeiting charges in 1910 the Terranova brothers filled the power vacuum. They soon rose to be top gangsters in Harlem and Manhattan and Ciro became associated with many officials from the town, which granted him allot of influence on the street.
Troubling Morano

During the mid 1910's the Morello's got acquainted with Coney Island gangster
Pellegrino Morano
. They permitted Morano to run some business in Harlem if he payed up to them. In 1916 they eventually asked a favor to be done by Morano and his fellow Camorra leader of Navy Street, Leopoldo Lauritano. Joe DeMarco, a man who controlled many gambling venues in Lower Manhattan, had to go so they could take over and to revenge his botched murder attempt on Nicholas Terranova. Before the murder occurred Ciro, Nicholas and Stefano LaSale had a meeting with some of the local Camorra leaders to discuss the last details. Mike Fetto was appointed for the job, but failed in killing his target because he arrived late at the scene. The murder contract was then passed to Joseph Esposito. Esposito and a couple of gunmen went to visit DeMarco but again bad luck was at their side after they had killed the wrong man. Morano was slowly being humiliated by his men and eventually sought the help of one of DeMarco's own men, Giuseppe Varrizano. In July 1916 a couple of men, including Joe Esposito, entered a gambling hall where DeMarco was sitting. Varrizano, who was with him that night, pointed him out just before he was shot to death. That evening the Terranova brothers payed the hitmen $50 for their work.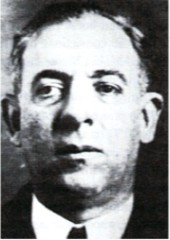 Morano however became less and less positive about his Sicilian associates because he didn't receive the respect he wanted. Next to that he felt he was being extorted by Nicholas Terranova and Eugene Ubriaco, to whom he allready had lost about 1.500$ the past few months. Therefore he was in favor for eliminating him. Their deaths would also bring more income to the Camorra gangs as they could take over their very lucrative rackets. His plan was immediately backed by Navy Street bosses
Allessandro Vollero
and Leopoldo Lauritano. Together they forged an alliance against the Morello's which would eventually take form in September 1916. Nicholas Terranova and Eugene Ubriaco were lured to a false meeting and were shot to death. Ciro was asked to identify his brothers body that night. In 1917 Morano, Vollero and others were all arrested at the funeral of one of their men,
Andrea Ricci
, who'm they had killed to silence him. Both Vollero and Morano were sentenced to life in prison. Also Ciro Terranova was arrested and was charged with the murder of Joe DeMarco, but was acquitted for the crime in 1918.
A new challenge
After the so called
Mafia-Camorra war
the Terranova brothers again were being challenged, this time by Brooklyn mobster
Salvatore D'Aquila
, who had proclaimed himself Boss of Bosses. In 1920 Giuseppe Morello was released from prison and retook the leadership of the gang. D'Aquila however feared of being suppressed again by the former Boss of Bosses and therefore put out a contract on him. The main support for D'Aquila came from
Joseph Lonardo
, the boss of the Cleveland mafia.
Umberto Valenti
, who was present the night Joe DeMarco was killed, also sided with D'Aquila. In 1922 Vincent Terranova was murdered by Valenti and his gunmen. Valenti also tried to murder
Giuseppe Masseria
a couple of times but without success. Masseria, who was a strong enforcer of the Morello organization, eventually had their revenge when Valenti was murdered as well.
After the Valenti's disposal the violence cooled down again, but tensions didn't go away. In 1927 D'Aquila's associate Joseph Lonardo was murdered in Cleveland and in 1928 the flamboyant D'Aquila was also killed. The aging Morello then made Masseria the new boss while Morello himself became a senior advisor. In the meanwhile Ciro continued ran the Numbers game in Harlem, which was extremely popular amongst the poor inhabitants. There he became associated with
Dutch Schultz
, who would become known as the Bronx Beer baron during prohibition.
Castellammarese War

With the comming of
Salvatore Maranzano
in 1925 the Morello's found themselves a new enemy. Masseria in the meanwhile had become the new boss of bosses and gained allies all the nation. Most of the other gangs and families payed up to him and Morello. However, Maranzano was about to change that all. One of the first victims of the resulting war was
Giuseppe Morello
in August 1930, who was murdered in his Harlem office. While
the Castellammarese War
was raging on, a small time soldier by the name of
Joe Valachi
was trying to patch up a friendship with Ciro, whom he had feared for years.
Gaetano Gagliano
approached Valachi instead to take his side in the war. Later Valachi would be present during the killing of Ciro's nephew,
Joseph Catania
in February 1931. The war was finally stopped with the murder of Joe Masseria later that year.
Charles Luciano
, the former lieutenant of Masseria, took responsibility for the murder and gained control of the organization. Ciro, who had lost many of his associates and family during the violence was pushed away but kept on running his Harlem rackets.
Later years

After a while
Dutch Schultz
took over the number rackets in Harlem with Terranova as his partner, Ciro received only 25% of the profits. His career would rise again for a brief period with the death of Schultz in 1935, but Luciano then put
Mike Coppola
in charge of the rackets by which Terranova was again pushed a side. With his only source of income, his artichoke's, he regain the influence and control he once had. On Dec. 21, 1935 New York Mayor Fiorello La Guardia appeared at the Bronx Terminal Market. He banned the sale, display, and possession of artichokes. Six men would be indicted on violation of the anti-trust laws in February, including Joseph Castaldo, a relative of Terranova and his successor in the artichoke business. The mayor even had the police keep Terranova out of the city. Every time he appeared south of Westchester County he was arrested for vagrancy. He was eventually broke and had to sell his Spanish style mansion because he couldn't afford it anymore. On February 18, 1938, Terranova had a stroke and died two days later with his son and wife by his side.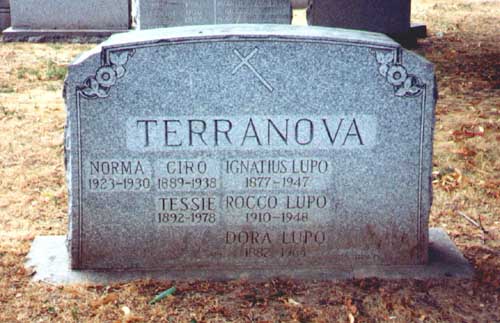 Picture from findagrave.com