The Castellammarese War was a bloody war between the Castellammarese branch of the mafia, headed by
Salvatore Maranzano
and the
Morello gang
, headed by
Giuseppe Masseria
. The war would determine the future of the Mafia in America. Many notorious mobsters, from which some of them would become Mafia bosses, had their part in the war.
Giuseppe Masseria works his way up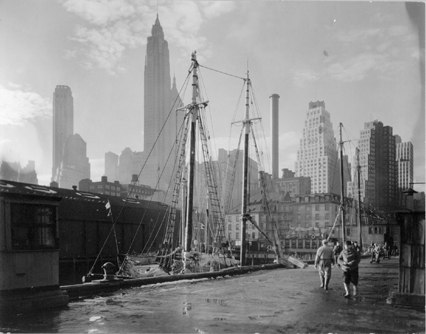 Manhattan
Giuseppe Masseria
was born in Palermo, 1887, and moved to America to avoid murder charges back in Sicily. He arrived in New York somewhere in 1903. It wasn't for long until he got into contact with
Giuseppe Morello
, the Sicilian leader of a notorious band of counterfeiters. Masseria later joined a Harlem branch of the
Morello gang
headed by
Ciro Terranova
. The Morello gang already headlined newspapers with the 1903 "Mysterie of the barrel" where a man was found stuffed inside a wooden barrel, he was killed with several stabbing wounds. Although many were arrested in the aftermath, no one of the gang was jailed for the crime. Masseria began his uprising in the gang as an enforcer and hitman. In 1910 then leaders Giuseppe Morello and
Ignazio Saietta
were arrested and jailed for counterfeiting. Morello's half-brothers Ciro, Vincent and
Nicholas Terranova
took over the organization. In 1916 however the Terranova's were challenged by the Brooklyn
Camorra
who were in fact former partners. The resulting violence led to the murder of leader Nicholas Morello in 1916. However, one year later turncoats sent most of the Camorra leadership to prison. For a while the danger seemed to calme down again and in 1920 Peter Morello and Ignazio Saietta got out of prison. Saietta returned to his homeland Sicily while Morello was eager go back to his brothers. But things had changed.
During Morello's absence another bigshot from Brooklyn, named
Salvatore D'Aquila
, proclaimed himself Boss of Bosses. D'Aquila made a pact with former Camorra gunman
Rocco Valenti
to kill the Morello-Terranova leadership, including Masseria. Valenti, who was credited with being the best gunman in town tried to murder Masseria a couple of times but failed with each attempt. In 1922 Valenti eventually wanted a truce between him and Masseria, but was trapped himself. As Valenti was fleeing he was shot death by a team of hitmen, including gunman
Salvatore Lucania
, on August 11 1922. After Valenti's murder Masseria's power grew and so on he gained more and more respect and fame on the street. D'Aquila, who was backed by Cleveland boss
Joseph Lonardo
and Castellammarese ally
Cola Schiro
, didn't gave up the fight although things cooled down the next couple of years. After Lonardo was murdered in 1927 D'Aquila began to lose support outside New York. This and other events eventually led to his murder in October 1928. Masseria had allready successfully wiped out many enemies who tried to take over, but a new challenge was waiting.
The Castellammarese Community
Since the late 1890's and early 1900's, many natives from Castellammare Del Golfo began to settle down in Williamsburg, Brooklyn, after leaving their homeland. Many of them were related to eachother by blood or marriage so it became a close knit community. Somewhere in 1907 a new gang rose in the poor streets of Williamsburg. That gang, which would ultimately be responsible for as much as 125 murders, was dubbed the "Good Killers".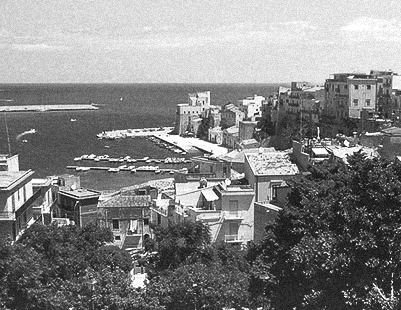 Castellamare Del Golfo
Men who headed this murderous crew were Bonanno relative
Vito Bonventre
, Giuseppe Lombardi,
Francesco Puma
, Bartolo DiGregorio and Manriano Galante . The assassins mainly had their base of operations in both New York and Detroit but also operated in Pittsburgh and New Jersey. In the following years rich and influential Italians would pay large sums of money for their work. As example they were responsible for the death of Detroit leader
Giovanni Vitale
in 1920.
One of the communities most important leaders was
Stefano Magaddino
. Magaddino's name was very familiar amongst the Castellammarese because his family's stature inside the old town. Together with his friend
Gaspar Milazzo
he rose the ranks and both were allready seen as leaders of the Castellammare community in 1921. However, not much later Magaddino and Milazzo left New York to escape prosecutions and moved to respectively Buffalo and Detroit where they both joined a group of Castellammarese allies. Back in Brooklyn
Cola Schiro
became in charge. By this time
Giuseppe Masseria
was fighting against
Umberto Valenti
.
During the mid 1920's a number of other future allies made themselves ready to travel across the Atlantic to settle down in America. Amongst them were
Vincent Mangano
,
Joseph Bonanno
,
Giuseppe Profaci
and
Salvatore Maranzano
. Maranzano had been a close associate of the Bonanno and Magaddino families in Castellammare and came to America in 1925. He set up a large alcohol distillery to benefit from prohibition and revolted against the dictatorial Giuseppe Masseria and his gang. The 1928 murder of
Salvatore D'Aquila
also helped in their decision to start a war. Because Schiro reputidly didn't act against Masseria, he was dethroned. Vito Bonventre was next in line to take over. Castellammarese all over the country began to back them and the upcoming war, for instance Stefano Magaddino from Buffalo,
Joe Aiello
from Chicago,
Salvatore Sabella
from Philadelphia and Gaspar Milazzo from Detroit. Both gangs soon began hijacking each others trucks and destroyed breweries and bars in New York. Maranzano was then appointed to become the chief overseer of the war.
The Castellammarese War
Tensions between the 2 factions ran high and soon body's were found on the streets. Some of Masseria's members saw that Maranzano and the Castellammarese were a very strong apponent. One of them was
Gaetano Reina
, leader of the future
Lucchese Family
, was then a lieutenant of Masseria. Masseria believed that Reina was secretly negotiating with Maranzano after Masseria started to demand a share of Reina's profits.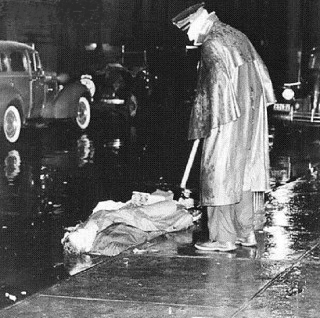 Another victim.. Louis Riggiona, 1930
As one of the first high profile victims, Gaetano Reina was murdered by
Vito Genovese
on February 26, 1930, in orders of his own boss. Masseria then appointed his allie
Giuseppe Pinzolo
to succeed Reina as head of his crew. Only 2 months later important Castellammarese ally
Gaspar Milazzo
was murdered in Detroit. In July, 1930, Castellammarese leader
Vito Bonventre
was also killed in his garage. Maranzano immediatly reacted with the murder of
Peter Morello
, second in command of Masseria in August. In September Masseria loyalist Joseph Pinzollo was murdered by members of his own crew, because they disliked Pinzollo and wanted to allie themselves with Maranzano.
Gaetano Gagliano
and
Thomas Lucchese
ordered Pinzollo's murder and soon backed Maranzano. Then, in October 1930 Maranzano loyalist
Joe Aiello
, who ran a small Castellammarese branch in Chicago, was also murdered in orders of
Al Capone
and Masseria. Again Maranzano acted and ordered the murder of
Al Mineo
, the man who took over from
Salvatore D'Aquila
. Both sides had lost major members and Masseria's foundations were shaking.
By 1931 more of Masseria's men began to realize they were better of with Maranzano for the future of the Mafia. On February 5, 1931, yet another Masseria loyalist,
Joseph Catania
, was murdered. During the war and even before the war Masseria lieutenant
Charles Luciano
ran his own crew. Luciano didn't only had Italians or Sicilian men in his crew, but also Jews. He had good relationships with former
Arnold Rothstein
members who knew the way of doing business. Luciano,
Meyer Lansky
,
Frank Costello
and others decided that they would ambush their boss, Giuseppe Masseria, in order of creating peace on the streets of New York again and to restructure the Mafia in America. They began negotiating with Maranzano and set up a plan to murder their boss. On April 15, 1931, Masseria was shot and killed during lunch with Luciano. Legend has it that Luciano excused himself to the bathroom while 4 gunman suddenly entered the restaurant and murdered Masseria. The 4 gunman were
Bugsy Siegel
,
Albert Anastasia
,
Joe Adonis
and
Vito Genovese
.
Salvatore Maranzano was pleased with the death of his rival Joe 'The Boss' Masseria. He called in his most important members and also the men who helped him by betraying Masseria. There he devided the 5 families which would rule New York.
On top of it all was Salvatore Maranzano, the boss of all bosses. However, this did not satisfy Luciano and his group. Even after Luciano got control over Masseria's territory and organisation, he wanted Maranzano out of the picture. However, Maranzano saw the danger in Luciano and didn't trust him. Therefore he hired an Irish gunman, named
Vincent Coll
, to murder Luciano. He also put the Chicago leader,
Al Capone
, on his hitlist (maybe because of the murder of Joe Aiello). Luciano on the other hand was also preparing his murder. He hired a couple of Jewish thugs to do the killing and luckily for Luciano, he was the first to do his move. On September 10, 1931, Maranzano was killed in his office at the Helmsley Building. After his murder
Joseph Bonanno
, rightfull heir to the throne, took over from Maranzano but there wouldn't be any revenge actions. The 5 family's remained and overall business in America would be discussed by a commission, which consisted out of the heads of the family's. This was an ingenious way to keep the peace.
Important Victims
The war made many victims, amongst the most important victims were:
Al Mineo
||
Gaspar Milazzo
||
Gaetano Reina
||
Giuseppe Pinzolo
||
Joe Masseria
||
Joe Aiello
||
Joseph Catania
||
Peter Morello
||
Salvatore Maranzano
||
Vito Bonventre