Carmine Persico is the boss of
the Colombo Family
since 1973. Eversince 1986 he is in jail but maintaned control over the family by use of acting bosses, including his own son
Alphonse Persico
.
Profaci - Gallo war
Carmine Persico was born in 1933 in New York. His father Carmine John Persico Sr was a member of the
Luciano Family
and both his brothers Theodore and Alphonse also became members of the Mafia. Carmine was made under then boss
Joe Profaci
and was named a capo under
Joe Colombo
. He was widely regarded on the streets as a feared enforcer and loanshark. After the murder of
Frank Abbatemarco
in 1959
Joey Gallo
and his brothers began to retaliate against Joseph Profaci's leadership. Persico helped the Gallo's in their revolt and was involved in the 1961 kidnapping of Profaci's cousin and underboss
Joseph Magliocco
, who was eventually released again without harm. In 1961 Gallo was convicted and jailed for extortion, which led to an end of the frictions. A year later however boss Joseph Profaci died of cancer and was succeeded by Joseph Magliocco.
The Immortal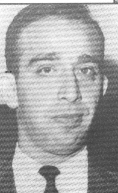 A young
Persico
Now with Gallo out of the way, Magliocco gave Persico the opportunity to allign himself to them instead of the Gallo group, Persico agreed. The Gallo's however weren't satisfied with the decision of Persico and in 1963 his car was bombed, but he survived with only minor injuries. In May of that same year Persico was again attacked by men of the Gallo faction. He was shot several times during a drive by shooting but again he survived, leading to his nickname 'the immortal'. Later that year Persico and his enforcer Hugh McCintosh were convicted of hijacking and extortion. Also that same year Magliocco was plotting with
Bonanno
boss
Joseph Bonanno
to kill rival bosses
Carlo Gambino
and
Thomas Lucchese
, because they claimed he had taken the leadership illegaly. Magliocco turned to
Joseph Colombo
to plan the killings, but instead Colombo ratted on Magliocco and went to see Gambino and Lucchese. As punishment Magliocco, who suffered from poor health, was fined $50.000 and was forced to step down as boss. Joseph Colombo was then appointed as the new head of the family and changed the name in that of his own. He also reviewed the memberships of his men and appointed Persico, who was in jail at the time, as a captain. When Persico was released again in the late 1960's he immediately returned to the streets and soon turned out to be one of the most profitable members the organization had ever seen.
Boss of the Colombo Family
During the late 1960's and early 1970's Colombo was drawing more and more attention to the Mafia due to his Italian-American civil rights actions. This was not to the likes of the other Mafia bosses. On June 28, 1971, Colombo was shot during a speech in front of hundreds of people. He survived the murder attempt but rest in a deep coma for 7 years before eventually dying. It is widely believed that Joey Gallo, with help from
Carlo Gambino
, was behind the murder. Persico however also became a suspect and was questioned by the police about the hit.
Joseph Yacovelli
in the meanwhile became the Acting Boss of the Family during Colombo's absence.
Persico, who was now in position of underboss, feared that Gallo was again going to retaliate against the Colombo faction and therefore they had to take measures. On April 7, 1972, Gallo was shot and killed in front of his family while he was celebrating his 43th birthday. The gunmen were never identified, but it is believed that Persico and Yacovelli were behind the hit. He was arrested days later but the police had no proof of his involvement. In 1973 Persico was again arrested for loansharking and extortion and was jailed until 1979. However, his influence in the family had grown, mainly thanks to fellow capo's
Vincenzo Aloi
and
Gennaro Langella
. After his release he was recognized as the official boss of the family (but was probably boss from 1973 on). On Januari 31, 1985, Persico was named on the Ten most wanted list by the FBI and went in hiding when hearing they were going to convict him for extortion, murder, racketeering and conspiracy. On February 1985 he was eventually arrested in Wantagh, New York.
The Mafia Commission Trial
The Mafia Commission Trial began on February 25, 1985, until November 19, 1985. Next to Carmine Persico, 10 other high profile members of the Five Families were convicted. Amongst them were
Anthony Salerno
,
Anthony Corallo
,
Phillip Rastelli
, and
Paul Castellano
, who was murdered before he could be convicted. The trials oftenly were more of a circus and at one point Persico fired his lawyers and decided to represent and defend himself during the trials. Eventually everybody was found guilty on all charges. Persico was sentenced to life in prison and got a total of 139 years. He is currently jailed at the Federal Correctional Institution in North Carolina. Although being in jail Persico held much of his authority in the family. In 1987 for instance Persico gave orders to Joel Cacace to have prosecutor William Aronwald murdered. The hitmen however missed the target and killed Aronwalds 78 year old father instead. Due to the hitmens mistake Cacace punished them and had them all killed.
Colombo war 1991-1993
During the mid 1980's Persico appointed Victor Orena as the Acting Boss of the family. However, Orena doublecrossed Persico and wanted to take over the family backed by Gambino boss
John Gotti
. Realizing Orena started to oppose him Persico decided to end the dispute before Orena got the chance to make a move. Armed to the teeth Consigliere Carmine Sessa, John Pate and 2 soldiers drove to the house of Orena in Long Island to have hem whacked, but Orena managed to flee. In the months to follow 12 men were murdered and several were wounded. The FBI eventually decided to take down the Orena faction in order to stop the violence. In 1992 Orena was sentencend to life in prison. Persico's son Alphonse then became the new Acting boss of the family. In February 2009 Alphonse, like his father, was also sentenced to life for the murder of Orena loyalist
William Cutolo
. With Alphonse also behind bars the long going Persico rule within the family slowly vanished.
(
Source: "Tangled Tale of Botched Hit Is Detailed in an Indictment" NYtimes January 23, 2003; "Reputed mob leader is jailed without bail" NYtimes February 17, 1985; "The complete idiot's guide to the mafia" by Jerry Capeci, abcnews.go.com, gangstersinc.tripod.com, foia.fbi.gov)