Carmine 'Lilo' Galante was the underboss of
the Bonanno family
during the 1950's before he took control himself in 1975 after
Phillip Rastelli
was jailed. Galante was one of the main contacts between the American and Sicilian mafia during the massive drug trade which would eventually become known as the Pizza Connection.
Growing up amongst the Castellammarese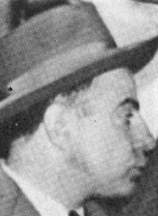 A young
Carmine Galante
Galante was the son of a fisherman who immigrated from Castellammare del Golfo, Sicily, and was born in 1910. Carmine grew up amongst both relatives and associates from their native country. Many of them were members of the 'Secret Society', a term which was used allot to define the Mafia. During the late 1910's and early 1920's Carmine's uncle, Mariano, was a member of the 'Bonventre gang', a vicious crew of assassins. The gang is believed to have murdered about 125 men in and outside New York, including mob leaders such as
Giovanni Vitale
. Although the gang eventualy seemed to have vanished during the early 1920's, many of it's members stayed active in the growing criminal enterprise of the Castellammarese.
Carmine's career in crime started when he was only 11 years old when he joined a streetgang on New York's Lower East Side. During his teens he became a Mafia enforcer, often stealing trucks of liquor and extorting shopkeepers. In 1927 he was arrested for assault and was jailed at
Sing Sing
prison. In 1930 Galante and others were caught by New York police officer Joseph Meenahan while attempting to hijack a truck in the neighborhood of Williamsburg, the Castellammarese headquarter. In the resulting gun battle Galante wounded Meenahan in the legs. A six-year-old girl who happened to be nearby was struck by a stray bullet. Although both survived Galante was sentenced to 12 1/2 years in prison. By this the young Carmine couldn't involve himself in the upcomming
Castellammare war
and was also jailed during the outcome and formation of the 5 New York families.
Working his way up
Galante was released on parole in 1939 and immediatly returned to his criminal life. On January 11, 1943, he murdered anti-fascist journalist Carlo Tresca in orders of
Frank Garafola
, because he had made public accusations towards Garafola,
Frank Costello
and others of being gangsters and fascists. As Galante became a made member within the Bonanno Family he proved himself more than worthy, being both vicious to his enemies and true to his leader,
Joseph Bonanno
. By the 1950's Galante was appointed as the Bonanno underboss and later was given the task to go to Canada in order to expand the organization. This new alliance however also had a goal for setting up a large drug trafficking network. Galante headed for Montreal where he was welcomed by Calabrian gangboss
Vincent Cotroni
, leader of a local but growing criminal empire. Cotroni accepted the deal and became closely associated with the bonanno's.
In October 1957 Galante accompanied his boss Joseph Bonanno and former second in command
John Bonventre
to a meeting in Sicily. There he became part of one of the most important Mafia meetings ever to occur and would become one of the leading figures in the billion dollar business of heroin trafficking. The Sicilian bosses had things figured out and would buy pure drugs from Asia and the Middle East through Turkey, from where it would be shipped to the shores of Sicily. The heroin would then be taken to Western Sicily to be manufactured. This is where the American Families had to join in, a large part of the drugs had to be shipped towards America where it could be sold. Both Bonanno's and Magaddino's territory in Canada would come in handy to import the drugs. Through hidden smuggle routes, from which many of them were used 30 years prior during prohibition, the large amount of heroin could enter the US. The other families however could also recieve a bit of the action. Therefore a meeting was organized in New York with all the heads of the families to discuss the distribution of the drugs. Galante is believed to have attended the
Apalachin meeting
in October 1957. He was one of the few who wasn't arrested when the police suddenly invaded the property. He assumebly remained inside the house and was left alone because the police didn't had a searchwarrant to enter the house. Although the presence of the Mafia became known to the FBI after the failed meeting, it didn't stop the loads of heroin entering the country. On the street the Bonanno Family soon became known as the "Heroin Family" and was dominant in the billion dollar business of heroin trafficking.
Boss of the Family
Galante's rise of power was put on hold in 1959 when he was sentenced to 20 years for drug offenses during an FBI bust. Carmine was placed in a high level security prison amongst the meanest en toughest criminals of the country but even behind bars Galante showed authority. It didn't take long for everybody to knew who he was and were carefull when crossing him. On one account a whole line of inmates was gathered near the phone to have a weekly call. Galante entered the room but instead of getting in line he walked straight over to the phone and simply ordered "Give me the phone", without hesitation or retaliation by others, he got it. Also, while Galante was serving his sentence, the prison psychiatrists had diagnosed him with psychopathic personality disorder.
When
Joseph Bonanno
left for Arizona in 1969, the family was in hands of John Sciacca and then Natale Evola. When Evola died of cancer in 1973,
Phillip Rastelli
was next in line to become boss. However, he was allready arrested and jailed 2 years later. Galante in the meanwhile was released on parole in 1974 and took over the Bonanno family while Rastelli was behind bars. Altough Galante had been jailed for many years he had managed to maintain much of his control in the drug business. From the 60's on the Bonanno's and other families bought all sorts of enterprises such as bakeries and pizzeria's which would operate as fronts to distribute heroin.
Word on the street of Galante's release from prison soon reached the streets and many would talk about it. This proves how notorious Galante was. His sellfishness and violent reputation could easily turn hostile to other families. Galante also started to surround himself with imported Sicilian mobsters, men from whom he believed had absolute loyalty towards their boss and still honored the old Sicilian manners. Amongst those men were Castellammare natives Baldo Amato and
Cesare Bonventre
, a relative of former underboss
John Bonventre
. Both men were appointed by Galante as his bodyguards. As second in command he appointed
Salvatore Catalano
, who formed a very important link between the American and Sicilian Mafia. The other members in the Bonanno Family however disliked the fact Galante was bringing in the Sicilians, who weren't quit the social and friendly types, but mainly hanged around with eachother and formed a private gang.
In 1977 Galante was arrested again and was briefly jailed for violating his parole. By this time Galante was beginning to put himself in a dangerous position because of his greed and arrogance against
Phillip Rastelli
, who was in fact still officialy in charge of the family. It was even said that during his brief stay in prison he received death threats and for his own security was transfered to a federal prison in San Diego before being released in March.
The end of the cigar
On July 12, 1979, Galante and his bodyguards went to a restaurant owned by his cousin, Giuseppe Turano, at 205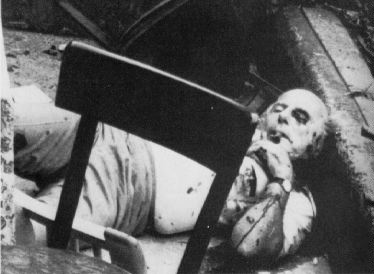 Carmine Galante shot dead
Knickerbocker Avenue. They were having a drink before Turano went on holliday to Sicily. However, a couple of minutes later a vehicle stopped in front of the restaurant and three men burst inside the restaurant and started firing at Galante and his cousin. Galante was instantly killed as one bullet went straight through his eye. Cigar still in mouth, Galante died instantly of his wounds. His cousin Giuseppe Turano and bodyguard Leonardo Coppola were also murdered. The men responsible for the hit were Bonanno members
Anthony Indelicato
,
Dominick Trinchera
,
Sonny Black
, and Louis Giongetti. Strangely enough his Sicilian bodyguards who were accompanying Galante were not harmed. Later police found out that both men, Baldo Amato and Cesare Bonventre, had also taken part in the slaying. After the murders Indelicato went to see his father, capo
Alphonse Indelicato
and his Uncle J.B. Carnone who waited at a Manhattan social club. A surveillance video tape showed Indelicato being congratulated by Carnone. Indelicato and Trinchera where appointed as captains of the Bonnano family afterwards as a reward. It is suspected that his death was approved by the commission, in cooperation with
Phillip Rastelli
, who had decided Galante's greed and ambition were a threat to all their interests. It lasted another 7 years for Bruno Indelicato to be convicted for the crime, he was sentenced to 12 years.