Carlo Gambino was one of the most notable bosses of the
Gambino family
, which he headed for 21 years between 1957 and 1976. During his tenure as boss he was also regarded as the Boss of Bosses in America and was responsible for the deaths of two fellow Mafia heads,
Albert Anastasia
and
Joseph Colombo
.
Early association
Carlo Gambino was a native of the town of Caccamo in Palermo, Sicily. He was born to a family that had belonged to the Secret Society for years. Once dictator Benito Mussolini chased a great deal of mafiosi out of Sicily, one of the men who benefited from the new, better-organized Mafia was Gambino. It is believed he began carrying out theft and extortion orders for the Society in his teens.
Immigration
Benito Mussolini was gaining power in the country and Gambino, like many other mafioso, decided to leave Sicily. He entered the US illegally on a shipping boat that carried anchovies and wine from Europe. When he arrived at the shores of Norfolk, Virginia, he was taken home to his cousins, the Castellanos. The Castellanos were bootleggers in New York and owned a trucking company. During the prohibition era Gambino helped them as a bootlegger and became a gunman. The gang had ties to leading New York boss
Joe Masseria
. Being a member of the Masseria forces he met men such as
Charles Luciano
and
Vito Genovese
on more than one occasion.
In 1930 the
Castellammarese war
broke out between Masseria and rival
Salvatore Maranzano
, who led a band of Sicilian bootleggers in Brooklyn. Throughout the war Gambino continued his bootlegging operations while trying to avoid enemies from the Maranzano side. After about a year Luciano had found it in his power to stop the war. He and a couple of confidants forged an alliance with Salvatore Maranzano, who'm they believed was a better leader than Masseria. On April 15, 1931, Masseria was shot dead while having lunch with Luciano. Maranzano was pleased with their action, believing Luciano and his gang now sided with him. In the following months the new Boss of Bosses, Salvatore Maranzano, restructured New Yorks 5 families. Gambino joined the Brooklyn based family of
Vincent Mangano
. For years the organization ran smoothly, gaining allot of power in the labor unions on the harbor side. Also Gambino's cousin
Paul Castellano
was inducted in the family. Internal frictions however ultimately led to Mangano's demise as he was killed in 1951 by his consiglieri,
Albert Anastasia
.
Taking over
Eventhough Gambino and Anastasia reputedly couldn't get along well, Anastasia promoted Gambino to be his second in command after his former underboss
Frank Scalise
was whacked for misbehavior.
Joe Bonanno
claims this was not due the fact Gambino was a good earner or smart guy, but because Anastasia felt he could control him. Bonanno also said that he once saw Anastasia in a fury on Gambino, after he had failed to do a certain task, and held his hand in the air as if he was going to smack Gambino in the face. Many mobsters agreed this behaviour was inappropriate, but Gambino let it pass by. He had plans of his own. Backed by longtime friend
Vito Genovese
he had forged a plot to take over the organization. Anastasia had lots of connections, but for one he still needed to be punished for the unsanctioned killing of Mangano (which was supported by Commission members Bonanno and Profaci) and secondly, the removal of Anastasia would be positive for Genovese as well because that would mean that
Frank Costello
, his superior, would lose an important ally and could be removed likewise.
Genovese was first to act and ordered one of his men to eliminate Costello. The hit failed, but the attack on the Costello-Anastasia alliance was in full effect. Four months later, on October 25, 1957, Anastasia was shot to death while sitting in a barbershop. The hit was carried out by a couple of Gambino drugrunners named Stephen Armone Stephen Grammauta. The murder of Anastasia was largely agreed upon in the Commission, as well as Gambino's promotion to become the new head of the organization. Also Genovese, he now had shoved Costello aside, had also climbed the ladder as head of the Luciano family. To make notice throughout the American Mafia Genovese set up a large meeting in
Apalachin
so everyone could pay their respects to the new heads of two of the most powerful Mafiagroups in the country. The meeting however was interrupted when the police infiltrated the ranch and arrested many of the attendees. It was a black mole on their otherwise successful counter alliance and rise to power.
Reign as boss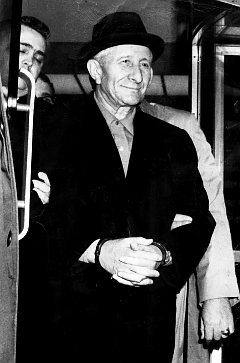 Gambino in 1969
During the reign of Gambino the family grew to become one of the richest and largest in America. It was also made clear the family would not be called the Mangano family no more, but would now carry Gambino's name, as did Genovese with the Luciano monicker. Gambino's son
Thomas
was also inducted into the family and became a capo in the garment industry. Other relatives later joined the family and became in charge of their drug operations, namely John and
Rosario Gambino
. The Gambino family would become heavily involved in the both the "French Connection" and "Pizza Connection" drugring. In 1948 Gambino,
Paul Castellano
and others had traveled to Sicily to discuss the matter of heroin.
Joseph Biondo
, who was Gambino's second hand man, was appointed as the families overseer in the drugtrade. By this he frequently visited Sicily and worked closely with Sicilian Mafiosi such as
Nicola Gentile
and
Gaetano Badalamenti
.
Carlo Gambino became one of the most respected, powerful and feared bosses of the 20th century. He became untouchable and maintained great influence in the American criminal world. When in 1960 a Sicilian mobster named
Angelo Barbera
moved in on Gambino's territory to set up his own smuggling network from Mexico to the US, Gambino stepped in and threatened to kill Barbera if he would continue. Barbera, who actually was an ally of the banned
Charles Luciano
, soon fled the scene. In 1959 longtime associate Vito Genovese was arrested for his involvement in the drugtrade and was sentenced to 15 years in prison, where he eventually would die.
Influence within the Colombo family

When
Joe Profaci
passed away in 1962 his brother-in-law
Giuseppe Magliocco
took over as leader of the Profaci Family. This however was not to the likes of Gambino and fellow Commission member
Thomas Lucchese
. Both were against his promotion, which angered Magliocco to the fullest, regarding he had been present since the early years. Not willing to give up his position he forged a plot to murder both of them. The plot however was revealed by the man who was actually appointed to carry out the plans,
Joseph Colombo
. Magliocco was punished for his deeds and was forced to step down. In addition Colombo was appointed as the new boss of the Profaci family, largely because Gambino and Lucchese had vouched for him. Gambino also chose Colombo's consigliere,
Joseph Yacovelli
. Because of this Gambino had a lot to say in the Colombo family.
Although Colombo was well liked within the Commission, his public appearances had made them feel otherwise. Colombo was chairman of the Italian-American Civil Rights League, for which he was occasionally interviewed and gave speeches at large gatherings. Because Colombo was also under police surveillance it caused reporters to publicly associate him with the Mafia, leading to growing attention and notification about the Mafia in general. Gambino and the other commission heads told him to stop his activities in the league, but Colombo ignored their demands. On June 29, 1971, Colombo was shot in the head in front of hundreds of people. The shooting left Colombo in a deep coma for several years. In the meantime Gambino appointed Yacovelli as his successor. Main suspect in the hit was
Joe Gallo
, who had already once fought for control of the Colombo family when Profaci was still in charge. However, others also believe Gambino was somehow involved in reaction to his unanswered demands to quit the League.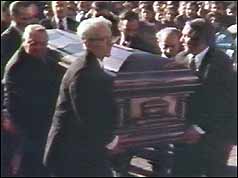 Carlo Gambino's funeral
Illness

During the late 1960's Gambino's health began to get worse. In 1970 he was arrested for conspiracy to hijack an armored car of the Chase Manhattan Bank with up to $5 million in cash. However, his bad health slowed down the progress of his conviction. In 1971 Gambino's wife, Catherina Castellano, lost her fight against cancer and passed away. In May 1972 a nephew of Gambino, named Emmanuel, was kidnapped. Wrapped in a blanket, 29y old Emmanuel was later on found dead in a New Jersey grave. The kidnappers had tried to extort Gambino for $350.000 but never saw the cash. One year later one of the kidnappers, an Irish-American gangster named James McBratney, was beaten and shot dead by Gambino members
John Gotti
and Ralph Galione.
In 1971 the government had tried to deport Gambino back to his native Sicily, but Gambino suffered from a bad heart and could not travel without the risk of dying. In 1976 Gambino realized he wouldn't last much longer and had to appoint a successor soon. He chose his cousin Paul Castellano. He then appointed
Aniello Dellacroce
to lead the blue-collared crews of the family. Gambino eventually died of a heart attack on October 15 ,1976, in his Long Island home. He was was buried in Queens, New York. His funeral was said to have had over 1.000 spectators including police chiefs, politicians and citizens.
(Source: geocities.com, foia.fbi.gov, nydailynews.com, "Biography" by Agnes Nixon, "American Mafia" by Thomas Reppetto, "Gambino's body believed found" NY times January 27 1973, "Gambino Arrested and Charged With Plotting $3-Million Theft" NY times March 24 1970)