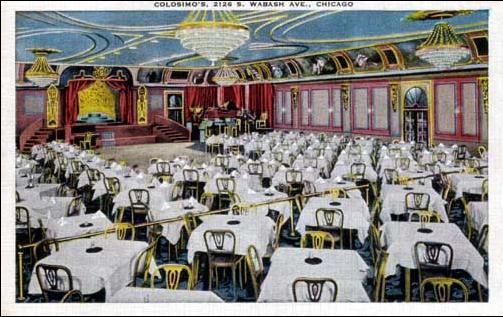 Vincenzo "James" Colosimo was an early prostitution and gambling boss in Chicago's Levee area and is credited with being the first official leader of the
Chicago Outfit
.
The prostitution king
Big Jim Colosimo was born in 1875 and left Italy in 1895, sailing towards America. Beginning as a small time hood, he was noticed by First Ward aldermen Michael Kenna and John Coughlin, for whom he worked as a precinct captain and later on as their bagman. These positions provided Colosimo with the political connections which would allow him to advance in his career as a gangster, pimp and extortionist.
Later in his career Jim Colosimo acquired another nickname, "Diamond Jim" a name given to him because he frequently dressed in a white suit and wore diamond pins, rings, and other jewelry. This jewelry combined with his charm and money helped him establish relationships with women. He had a strong love for them, which fueled his enthusiasm for the business of prostitution. In 1902 Colosimo married Victoria Moresco, an established madam, who teached him the prostitution racket. Later on the two opened a brothel together. Within a few years Colosimo expanded his business to nearly 200 brothels and had made inroads into gambling and racketeering.
In 1909 he was being threatened by a
Black Hand
extortionist group in Chicago and realized he needed help. Therefore he brought his wives nephew,
Johnny Torrio
, to Chicago and let him take care of his enemies. In 1911 this eventually led to the murder of 2 men who were involved in extorting Colosimo. In 1909 Colosimo opened a self-named cafe "Colosimo's", at 2126 South Wabash which would later turn out as an Italian Restaurant. In 1919, Torrio and Colosimo opened a new brothel at 2222 South Wabash called the Four Deuces. Torrio brought his trustworthy Brooklyn youngster
Al Capone
to Chicago to work there as a bartender and bouncer, providing Capone his introduction to Chicago.
Dale Winter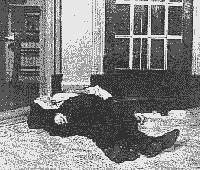 Dale Winter, a 22 year old girl searching for a future as a singer, began to work at Colosimo's in 1915. It didn't took long for Colosimo to fell for the young and beautifull woman, much to the dislikes of his wife. He payed for singing lessons and even payed for her studies. His love for Dale eventually made him leave his wife and remarry in April 1920. Upon returning to Chicago after a short honeymoon, Torrio called Colosimo to arrange a meeting for a shipment at the Café. Upon his arrival Colosimo was shot to death. No suspects were ever arrested, but it is widely believed that Torrio was responsible for the murder. The hit was believed to have been carried out by
Frankie Yale
, one of Torrio's former New York associates. Colosimo's ex-wife and her brothers were also considered suspects. Some crime historicians believe that Colosimo's downfall was due to his love affair with the young Dale Winter.
After his death Colosimo's interests were controlled by Johnny Torrio, who became very successfull thanks to prohibition and continued the prostitution racket. Dale Winter remarried in 1924 and moved to California. During the 1940's she would play a couple of small roles in movies such as Model Wife(1941) and Black Street(1941).