Born in Sicily around 1892, Antonio Lombardo immigrated to the United States in the early 1900s where he became a successful wholesale grocery business owner in Chicago, Illinois. A long time Mafia associate, Lombardo became
Al Capone's
advisor after
Johnny Torrio
retired in 1925.
Lombardo tried unsuccessfully to negotiate peace between the Chicago Outfit and the North Side Gang during the four year gang war, suggesting that Capone surrender supposed
Dion O'Banion
assassins
Albert Anselmi
and
John Scalise
, which Capone refused. Lombardo, with the help of Capone, later became President of the Unione Siciliana in November 1925, attempting to regain control of the unstable organization as well as instituting reforms, including opening membership to non-Sicilian Italian immigrants and changing the organization's name to the Italo-American National Union.
Lombardo's reforms, however, caused some resentment within Unione Siciliana members. With the partnership of Al Capone and New York gangster
Frankie Yale
worsening, possibly due to the end of payoffs from the Unione Siciliana to Yale, Lombardo would be challenged for the Presidency by
Joe Aiello
, supported by Yale, in January 1928.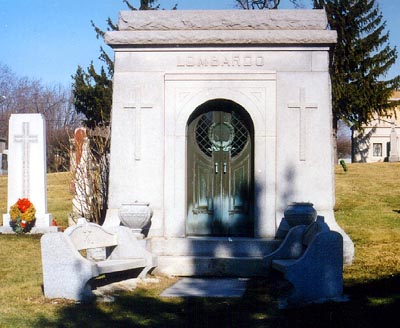 Lombardo, however, refused to resign and continued to organize civic projects under the Unione Siciliana until shortly before his death on September 7, 1928. Lombardo was gunned down, along with his bodyguard Joseph Ferrara (although bodyguard Joe Lolordo survived), allegedly by an alliance of the
Joe Aiello
Gang and the North Side Gang (The hitmen were
Peter Gusenberg
and his brother
Frank - Tight Lips - Gusenberg
in order of
Bugs Moran
) at the intersections of Madison and Dearborn Street. Thought to be retaliation for the murder of Frankie Yale the previous July, Lombardo's death was in turn soon avenged with the murder of members of the Joe Aiello Gang and the St. Valentine's Day Massacre in 1929.