Anthony Gaggi was a high-ranking member of
the Gambino crime family
, the largest and one of the most feared crime families in New York. He is most known for being the supervisor of
Roy DeMeo
, a Gambino soldier who became infamous for both his lucrative schemes in the auto theft market as well as for his murderous crew, which was responsible for at least 75 murders and suspected by the FBI of as many as 200 total.
Early life and criminal career
Born in the summer of 1925, Anthony Frank Gaggi grew up on 12th Street near Avenue A in the East Village of Manhattan. The last of 3 children, his father ran a barber shop and his mother was a sweatshop seamstress. Growing up during the years of The Depression, Anthony (nicknamed Nino after his original Sicilian birthname Antonino) went to work before the age of 10, sweeping up hair and polishing shoes at his father's barber shop as well as delivering flowers for a neighborhood florist. It was around this time that Nino also joined the dominant neighborhood gang, known as the Tenth Street Mob. The Tenth Street Mob members robbed vendor carts and frequently fought with rival gangs. It included among its former members Jake LaMotta, the boxer who later was the basis for the movie Raging Bull, directed by Martin Scorsese. Nino had been around organized crime since a small child. His father's cousin was
Frank Scalise
, a well-respected member and future underboss of what would become
The Gambino Family
. Nino reportedly idolized Scalise, telling fellow members of the Tenth Street Mob that he only wanted two things in life: to be like Frank Scalise and to die in the street with a gun in his hand.
At age 14, Nino Gaggi graduated 8th grade and stopped going to school, instead focusing on a job cutting hair at his father's barber shop. Nino also continued his floral delivery job and had begun earning enough money to occasionally buy himself expensive clothes. His sight began weakening around this time and he bought a pair of dark-tinted eyeglasses, a trademark of sorts for his appearance through the rest of his life. During his teenaged years, his family announced they were moving to a farm in rural New Jersey. Nino reportedly disliked his surroundings and after turning 17 in 1942 tried to leave by enlisting in the Army. He was rejected on the grounds of his nearsightedness and remained on the farm for another year, at which point the entire Gaggi family had become disillusioned with the farming life and decided to return to New York City, moving into Bath Beach, a neighborhood located on the Southwest coast of Brooklyn. Back in New York, after turning 18 in 1943, Nino contacted Frank Scalise and offered to work for him.
Early association with the Gambino Family
Frank Scalise
first gave Anthony Gaggi a job at a truck dock, quickly elevating him to position of supervisor. He worked there until 1945, when at age 20 he quit the dock job officially. Gaggi still received payments for the position however thanks to the influence of his new mentor Scalise. This practice of holding a "ghost job" was a common tactic used by organized crime members for ensuring security from the IRS while still enabling them to devote more of their time to illegal business ventures, which in Nino's case now included loan sharking in Brooklyn bars and pool halls.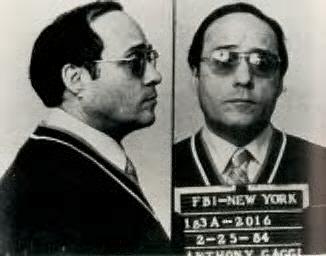 Anthony Gaggi 1984 mugshot
It was also around this time, in 1945, that Nino's sister met a deliveryman for a butcher shop by the name of Anthony Santamaria. The couple married by the end of 1945 and had their first and only child,
Dominick Santamaria (Montiglio)
in 1947. Because Nino's work schedule was primarily in the latter hours of the day, he was commonly in charge of watching over Dominick during the day. Dominick would grow up to become closely involved in Anthony Gaggi's criminal enterprises and years later would play a large part in Gaggi's downfall.
By 1950, Nino Gaggi had set his sights on expanding into the car business. He attempted to talk Dominick's father into staging a car accident so that Nino could defraud an insurance company. Anthony Santamaria's refusal to participate in the scheme started an open hostility between the two men that ended with Santamaria being kicked out of the house in 1951. He was also warned by then 26-year old Nino to never interact with Dominick or his family again.
In 1954, then 7-year old Dominick was witness to the FBI forcing their way into the house and arresting his uncle Nino. It was the first known arrest for Nino, and like his final arrest in 1984, it concerned Federal charges of running an international auto-theft ring. The ring had allegedly been operating out of a used-car lot in a nearby Brooklyn neighborhood with the backing of Gaggi's mentor Frank Scalise, who in the meantime had become the Underboss of the Gambino Family. In the operation, which started sometime in 1952, Nino and two other associates would fabricate vehicle registrations for nonexistent Cadillac brand automobiles. The crew would then hire car thieves to steal Cadillacs that matched the made-up descriptions, the stolen vehicles then having their Vehicle Identification Numbers replaced with new numbers. The vehicles would also get new license plates which were obtained using the falsified registrations the crew came up with. The stolen vehicles, now rid of the indications that they were "hot", or stolen, were then sold off to customers in Florida, Georgia, Texas as well as across the border in Mexico.
Despite the FBI discovering the operation, the arrest did little to deter Gaggi's criminal career. Witnesses set to testify against Gaggi and his associates would suddenly claim, while on the stand, that they had forgotten their testimony. As well, the codefendants who had pleaded guilty to the charges changed their stories or outright refused to testify against the members of the car ring. When the trial concluded in early 1956, Nino was found not guilty and, because he had been granted bail only a few hours after his arrest, served no jail time whatsoever for the charges.
While the trial had been underway, Nino married in 1955 and became father to his first child in 1956. His wife and child lived on the first floor of the three-story Gaggi household. Although he didn't have his first child until 1956, Nino had served a father figure for his nephew Dominick since the boy was an infant. When the nephew had his confirmation ceremony in May of 1957, Nino was present as the child's Godfather.
In June 1957, Nino was faced with the first real possibility of war within the Gambino Family. His mentor, Frank Scalise, was murdered in the Bronx while he stood at a fruit stand, an unknown assassin shooting him four times from behind at point-blank range. Frank's brother Joseph, who was overheard at the wake swearing revenge, would disappear shortly thereafter.
A couple of months later in October 1957, the tension mounted within the crime Family when boss
Albert Anastasia
was shot to death as he sat in a barber's chair at a Manhattan hotel. Gaggi's close associate
Carlo Gambino
rose to the throne and became the new boss and namesake of what then became known as the Gambino Family. Despite the number of benefits Gaggi's former relationship to the new boss promised, Nino ordered his family to all stay inside the Gaggi home for a few days in case of any trouble. Gambino's elevation to the position as Boss led to no further conflict however after he appointed
Aniello Dellacroce
, an Anastasia loyalist, to position of Underboss and gave him control over the Manhattan faction of the family.
In October of 1960, Nino Gaggi committed his first known murder for the Gambino Family. He was part of a hit squad who murdered capo
Vincent Squillante
, the man who was most likely to have murdered both Frank and Joseph Scalise in 1957. According to
Dominick Montiglio
, Gaggi's account of the murder was as follows: "We surprised him in the Bronx. We shot him in the head, stuffed him in the trunk, then dumped him for good." In this case, "dumped him for good" meant that they took Squillante's body to the basement of a building located somewhere on Tenth Street, Gaggi's old neighborhood as a youth. There, the corpse was put into the basement's incinerator and cremated. Gaggi's participation in this murder resulted in him being officially inducted into the Gambino Family.
Promotion and Association with the DeMeo crew
By the mid-1960s, Gaggi had a wide variety of loanshark customers and was also a silent partner in several businesses. In looking for more ways to expand his business and increase his earnings, he was made aware of a young man involved primarily in the stolen car business in the Brooklyn neighborhoods of Flatlands and Canarsie. This man,
Roy DeMeo
, had minor connections with members of
the Lucchese Family
and had garnered a reputation as a capable and resourceful earner. Through mutual acquaintances, Gaggi invited DeMeo to meet with him and the two soon began doing business together, initially making co-loans to loanshark customers. This would continue through the rest of the 1960s and by 1970, Roy was officially working for Nino and paying him weekly tributes. In 1972, the two men forced their way into a partnership with a company that illegally processed X-rated films. After it was raided in 1973, one of the owners of the company, Paul Rothenberg, began to cooperate with authorities. Gaggi ordered DeMeo to murder Rothenberg, who was found shot to death shortly thereafter.
Rothenberg's killing was the first in a long line of murders committed by Roy DeMeo, who headed a crew that would eventually be suspected by law enforcement of committing between 75-200 murders. While Nino Gaggi did not involve himself in the vast majority of these killings, there were a few in which he was directly involved. In 1975, Gaggi and DeMeo shot to death Vincent Governara, a young man with no organized crime ties. Governara was killed as revenge by Gaggi for an event years earlier, when the two had been involved in a physical altercation. The next year, Gaggi and DeMeo traveled separately to Florida for another revenge killing. George Byrum, an electrical contractor who had assisted in the construction of Gaggi's vacation home, had tipped thieves to the fact that the house was often unoccupied while Gaggi and his family stayed in New York. Byrum was shot to death and left halfway decapitated in a Miami hotel room bathtub after being lured to the room by DeMeo.
In late 1976,
the Gambino Family
boss
Carlo Gambino
, a man whom Gaggi was closely allied with, died of natural causes. Gambino's dying wish was reportedly for
Paul Castellano
, his brother-in-law and another man with whom Gaggi shared a close relationship, to replace him. Despite this, there emerged two opposing factions within the Family, the other faction favoring longtime Gambino underboss
Aniello Dellacroce
. At a meeting held between the hierarchy of the two opposing factions at Gaggi's house, Castellano was appointed the boss and Dellacroce retained the position of underboss. Upon Castellano's ascension, Gaggi himself was promoted from soldier to capo, or captain, of Castellano's old crew. Gaggi would continue to remain close with Castellano, and was expected to be promoted to underboss upon the death of Dellacroce.
With Castellano replacing Gambino as boss, it was announced that new members would be inducted into the family upon proposal by their superiors. Gaggi proposed his protege Roy DeMeo numerous times but was denied. Castellano felt that DeMeo murdered too freely and that Gaggi would not be able to keep him under control. By 1977 however, Gaggi was able to convince Castellano to accept the proposal after DeMeo successfully formed an alliance between the Gambino Family and The Westies, a group of Irish-American criminals that dominated Hell's Kitchen (a neighborhood of Manhattan). DeMeo was officially inducted in the summer of 1977 and continued to expand his many illegal activities, passing up increasingly large sums of money to Gaggi on a weekly basis.
Aside from the earnings brought in by the DeMeo Crew, Gaggi himself continued to expand his loansharking business. His nephew Dominick Montiglio, now officially a Gambino associate, was put in charge of collecting the loans from Gaggi's customers. Montiglio was also put in charge of collecting the majority of the weekly payments from DeMeo for his uncle. Montiglio's close involvement in nearly all facets of Gaggi's criminal activities, particularly with the DeMeo Crew, would have heavy repercussions for Gaggi in the mid-1980s.
On June 7, 1978, Nino Gaggi and nine others were charged with racketeering, conspiracy and fraud charges as a result of a year-long Federal investigation into the bankruptcy of a theatre in New York. Many of those charged had been recorded by FBI wiretaps discussing the criminal activities related to the theatre. Although Gaggi was recorded a number of times, his discretion when talking on telephones meant that he was never actually recorded saying anything incriminating. Because of this, Gaggi was cleared of all charges near the end of the trial in December of 1978 after the judge in the trial determined that the Federal prosecutors had failed to present enough evidence against him.
Eppolito Murders and Arrest
By 1979, Gaggi's protege Roy DeMeo was involved in a massive variety of illegal activities, among them loansharking, murder-for-hire and heading an international automobile theft ring that shipped stolen cars overseas to the Middle East. As DeMeo's boss, Gaggi received large portions of the profits earned through these activities. Gaggi also received profits from activities that were officially banned by the New York Mafia families, namely the trafficking of narcotics. The DeMeo Crew sold cocaine, marijuana and a variety of pills in large amounts. Under Mafia protocol, both DeMeo and Gaggi should have been murdered had their violations became known to Gambino boss
Paul Castellano
.
In late 1979, Gaggi and DeMeo were accused of drug-dealing by long-time Gambino captain James Eppolito. After his son was ripped off in a drug-deal with the DeMeo Crew and then accused by Gaggi of being a police informant, Eppolito took the situation to Paul Castellano and accused Gaggi and DeMeo of drug-dealing. Eppolito then asked for permission to murder them. Despite the drug-dealing accusations, which would normally be a death sentence, Castellano sided against Eppolito and gave Gaggi and DeMeo permission to murder Eppolito and his son, who was a soldier in the Family. On October 1, 1979, Nino Gaggi and Roy DeMeo shot the father and son Eppolitos to death. A young man drove by right as the shooting started and alerted an off-duty police officer, who located Gaggi walking away from the crime scene after he and DeMeo split up. Gaggi engaged the officer in a shoot-out and was wounded in the neck and arrested, being charged with murder and the attempted murder of a police officer. Through jury tampering however, Gaggi was convicted only of assault and given a 5 to 15 year sentence. He appointed Roy DeMeo as the acting captain of his crew in his absence, however by 1981 his sentence was overturned after advising the juror he bribed earlier to make false claims of government misconduct during the trial.
Downfall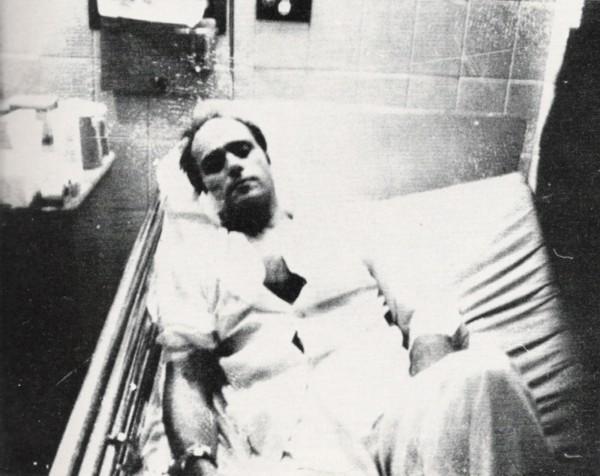 1979: Anthony Gaggi in hospital
after being shot by the police
By the time Anthony Gaggi's sentence was overturned and he was released in 1981, a number of events had occurred which would lead to not only his downfall, but the downfall of many of those around him as well. While Gaggi was on trial, his nephew Dominick Montiglio had become a drug addict and fled New York after becoming convinced he was going to be murdered. As well, while Gaggi was serving out his sentence, his acting captain Roy DeMeo's crew were under investigation by a joint Federal/State task force. DeMeo's auto-theft operation had been discovered by the FBI and two of his most loyal crew members had been imprisoned. One crew member had severed contact with the DeMeo Crew and gone into hiding, only to be arrested in the summer of 1981. This crew member, Vito Arena (1930 - 1991), had been anonymously providing the FBI with information since 1980 and agreed to officially cooperate with authorities upon his arrest. After being mistakenly released on bail, he fled into hiding again.
Word of Vito Arena's possible defection quickly reached DeMeo, and when Vito was arrested again in 1982 he immediately became a witness for the government and began providing a number of details about the crimes committed by the DeMeo Crew and, by relation, Anthony Gaggi. As the Task Force investigation intensified, Paul Castellano apparently felt that Roy DeMeo might cooperate with authorities. DeMeo was shot to death on January 10, 1983, his corpse found nearly frozen in the trunk of his car 10 days later. The murderer was never identified, but law enforcement authorities believe Gaggi himself shot DeMeo, who was reportedly in such a dangerous state of paranoia that only a close associate could have made him drop his guard.
Shortly after DeMeo's murder,
Dominick Montiglio
was arrested after visiting New York and attempting to collect on an old loanshark debt. Like Vito Arena, Montiglio would become a witness for the government as well. He was able to provide a great deal of information on the DeMeo Crew and also on his uncle, who had put him in charge of collecting his loanshark debts and seeing to his other business. It was Montiglio's information that led to Gaggi, as well as Gambino boss Paul Castellano, being added to the indictment as well. By early 1984 some of the DeMeo crew members were arrested. One of them, Richard DiNome, was murdered on February 4, 1984. Like DeMeo, the killers were never identified, but law enforcement assumed it to be the remaining members of the DeMeo Crew. Richard's brother Frederick DiNome also suspected the DeMeo Crew of being the murderers and as a result he too agreed to become a witness for the government.
On February 25, 1984, Anthony Gaggi was arrested on multiple charges of racketeering and murder.
Paul Castellano
was arrested the next month. The court decided to split the numerous charges into two trials, with the first one dealing only with the overseas auto-theft operation and 5 murders committed in relation to it. The trial began in October of 1985 and saw testimony from Vito Arena, Frederick DiNome and Dominick Montiglio among others. Midway through, in December, Castellano and the new underboss of
the Gambino Family
were shot to death on the orders of
John Gotti
. Anthony Gaggi became the new lead defendant and, according to at least one local news report following the Castellano murder, a possibility for new Gambino boss as well. In March of 1986 the jury handed down verdicts and Gaggi was convicted of conspiracy to steal stolen cars. He was sentenced to 5 years in a Federal prison and then transferred to Lewisburg Federal Prison to begin serving his sentence.
In 1988, he was transferred from Lewisburg Federal Prison to New York's Metropolitan Correctional Center for the second Federal trial, this one focused primarily on racketeering acts and 25 murders committed by members of and associates to the DeMeo Crew. While being held at the MCC on April 17, 1988, Anthony Gaggi died of natural causes. The trial, which had started in February of that year, would continue on for another year after Gaggi's death and would end in guilty verdicts on all counts for each of the remaining defendants and life sentences for the remainder of Roy DeMeo's crew.
Dominick Montiglio
would provide writers Jerry Capeci and Gene Mustaine information on his life for their book Murder Machine, which details the rise and fall of Anthony Gaggi and the DeMeo Crew. Montiglio would blame Gaggi's influence on his upbringing for his own criminal actions both in the book and in appearances on documentary programs detailing organized crime.