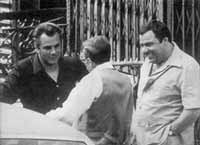 Surveillance photograph of
Ruggiero with John Gotti
Angelo "Quack Quack" Ruggiero was a New York mobster and member of the
Gambino crime family
. He was a longtime associate and friend of
John Gotti
and participated in the 1985 gangland slaying of Gambino boss
Paul Castellano
with Anthony "Tony Roach" Rampino, John Carneglia and Gotti. He was also involved in the 1973 murder of James McBratney and suspected in the 1980 disappearance of
John Favara
, a neighbor of John Gotti who had accidently killed Gotti's 12 year-old son in a car accident. His brother, Salvatore Ruggiero, was a drug trafficker who was killed in a plane crash in 1982. His son John Ruggiero followed his fathers footsteps and also joined the family. John died in September 2008 of cancer at the age of 45.
Ruggiero became the subject of a government undercover investigation as mobster turned government informant
Wilfred Johnson
provided information including a layout for Ruggerio's home for bugs and wire taps to monitor his activities in narcotics. The later recorded conversations between him and
Gene Gotti
implicating themselves in Castellano's murder. Ruggiero died of cancer in Howard Beach , Queens at the age of 49.