Angelo "The Gentile Don" Bruno was the boss of the Philadelphia Mafia from 1959 until his death in 1980. He was highly respected and had close connections with the
Gambino family
. His murder sparkled a decade of violence in the city of broderly love.
The Gentile Don
Angelo Bruno was born as Angelo Annaloro in Villalba, Sicily. He would later take the parental maiden name of his grandmother, Bruno, once he arrived in America. Bruno immigrated to America in his teens and settled down in Philadelphia. He became a good earning soldier under bosses
Salvatore Sabella
, John Avena and John Dovi. Under the command of
Joseph Ida
he became a capo. After Joseph Ida was deported back to Italy in 1958 he was succeeded by
Antonio Pollina
, a man with who'm Bruno wasn't getting allong well. At one point Pollina decided to murder Bruno. However, Bruno soon got notice of the murderplan and used his New York connections to save his life. As punishment Pollina was demoted and Bruno got promoted as the new boss of the Philadelphia family.
His tenure as boss was known as successful and peacefull. He was also described as a kind man, leading to his nickname "the Gentile Don". Bruno owned a series of legal ventures, such as an extermination company in New Jersey, and avoided media attention. He also avoided lengthy prison terms despite several arrests. His longest sentence he recieved was a 2 years for refusing to testify before a Grand Jury. Like many of the old school mob bosses Bruno was also against drugs. He refused his men to deal in narcotics but however gladly excepted drugmoney from a couple of Gambino men who were operating on his terf. These men were the cousins of fellow boss
Carlo Gambino
. Some of Bruno's men however weren't satisfied with this and blamed him for letting huge profits pass them by if they would not involve themselves in drugtrafficking. One of the men who denied Bruno's rule was his own consigliere
Antonio Caponigro
.
Murder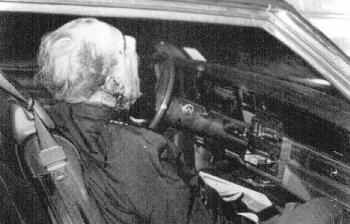 Angelo Bruno seated in the car after the shooting.
Having enough of Bruno consigliere Antonio Caponigro forged a plot to kill him and reputidly found support with New York
Genovese
boss
Frank Tieri
. On March 12, 1980, Bruno was returning home after diner at a restaurant and as the car stopped he was suddenly shot in the back of his head. He died instantly. The killing was commmitted by capo's Frank Sindone and John Simone. His driver that night,
John Stanfa
, escaped with only minor injuries and also became a suspect in the murder. Stanfa would eventually be sentenced to 8 years for not willing to testify during the trials. Within weeks Caponigro was found dead in the trunk of his car and also Simone and Sindone were murdered in respectively September and October 1980. Their plan to overthrow Bruno and take the lead had led to their own demise. In the aftermath of his murder about 16 men were murdered.
Bruno's funeral procession had over one hundred cars and there were about a thousand bystanders. He was buried in the family plot at Holy Cross Cemetery. He was succeeded as head of the family by
Philip Testa
.
(Source: "Space, time & organized crime" by Alan A. Block, "Blood and Honor: Inside the Scarfo Mob" by George Anastasia, "Reputed Leader In Mob Is Killed In Philadelphia" NYtimes March 22, 1980; gangstersinc.tripod.com)