Alfonso Caruana is a close associate of the Rizzuto family and was head of the Caruana-Cuntrera clan.
Life in Sicily
Alfonso Caruana was born in 1942 in Castelvetrano, a city in the provence of Trapani in the West of Sicily. He was born inside a leading Mafia family which was based in Siculiana and had a close knit relation with the Cuntrera family. Caruana married his niece Giuseppina with who'm he fathered a son and 2 daughters. In 1968 he and his family moved to Canada.
Cuntrera-Caruana drugtrafficking dominance
Caruana was made inside the Caruana-Cuntrera clan back in Sicily and once in Canada started to work together with
Nicolo Rizzuto
. Caruana's cousin,
Agostino Cuntrera
, also moved to Canada in that period. During the early 1970's Caruana became a key member of the Cuntrera-Caruana clan and oftenly held meetings in Italy with Sicilian allies and bosses such as
Giuseppe Settecase
and
Tommaso Buscetta
.
During the 1980's Alfonso Caruana moved to Venezuela to live with his cousins from the Cuntrera family (Paolo, Pasquale and Gaspare) and Nicolo Rizzuto, who had fled Canada after hearing there was a price on his head. The Cuntrera brothers had forged good relations with former Venezuelan president Carlos Andrés Pérez and lived in a large villa near Caracas. Together with the Rizzuto family the Cuntrera-Caruana clan organized the massive drugtrafficking operation which would lead to tons of shipments of heroin towards Europe and North America. With the massive amounts of money they earned they kept the Venezuelan authorities happy and could continue their plans. During the mid 1980's Caruana relocated to London where he and his brothers further organized their networks in Europe. He later returned to Venezuela in the late 80's.
In 1992 the United States and Europe however placed the Venezuelan authorities under pressure to arrest the Cuntrera brothers. Soon the brothers got arrested and were deported back to Italy to stand trial. Caruana knew he had to flee and descided to head back to Canada under the wing of
Vito Rizzuto
and his father Nicolo.
Charges and sentencing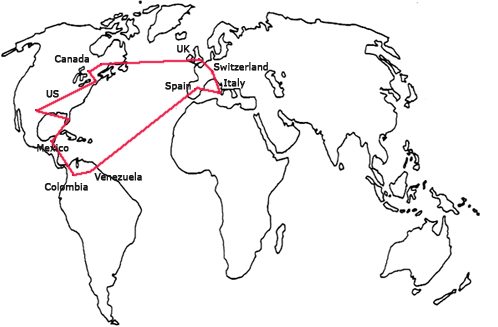 Caruana-Cuntrera-Rizzuto drugnetwork of the 1980's-1990's
One of Caruana's closest associates during the 1990's was Oreste Pagano, a member of the
Camorra
and an important contact between Caruana and his Colombian drug suppliers. When Pagano got arrested in 1998 he descided to become a federal witness and turn against Caruana. About the same period the RCMP raided Caruana's home in Woodbridge, Toronto, where his neighbours just thought he was an immegrant car-washer, living a discreet life. Pagano confirmed that the Cuntrera-Caruana clan was one of the most important organizations in the international drugbusiness and that Alfonso and his brothers Pasquale and Gerlando were it's leader. Caruana was afterwards charged with arranging the importation of Colombian cocaine into Canada. He pleaded guilty in 2000 and was sentenced to about 18 years, but was allready paroled in 2003.
After being released from prison he was arrested again 2 months later on a warrant from Italy where he had been sentenced in absentia to 22 years. The network that was revealed during Project Omerta was traced to countries such as Colombia, Mexico, Venezuela, Canada (more specificly Toronto and Montreal), the US (more specificly Houston, Miami and New York), Spain and Switzerland. The Milan daily Corriere della Sera once descibed him as "The most formidable machine the Cosa Nostra has ever had". On January 29, 2008, Caruana was extradited to Italy to begin his sentence.
(Source: www.time.com, newenglandorganizedcrime.com, www.nicaso.com, "The Sixth Family" by Adrian Humphreys; "Money laundering in Canada" by Stephen Schneider, "Angels, Mobsters and Narco-Terrorists" by Antonio Nicaso)