Alphonse "Al" Capone was the boss of the
Chicago Outfit
from 1925 until 1932. A flamboyant yet vicious leader who became an icon of the Roaring Twenties. He is one of world's most famous criminals and has been the subject of numerous books and movies.
Early Life
Gabriel Capone and his wife were part of the many Italian immigrants who came to the USA in 1894. In 1899 Teresina Capone gave birth to her fourth son, Alphonse Capone. In 1906 Gabriel Capone became a American citizen and his sons were given a more American sounding name:
Raffaele
became Ralph,
Salvatore
became Frank, Alphonse became Al Capone and Vincenzo, his oldest brother, changed his name to Joseph Hart and moved to Nebraska to (ironically) become a law enforcement officer, where he never talked to people about his family or background.
A great impact on Al Capone's life was when his family moved to Navy Street 21 Garfield Place. There he met his future wife Mae, and his mentor
Johnny Torrio
. Capone, such as many youngsters then earned pocket money from Torrio who was a role model for many youngsters. Over time Torrio began to trust and like Capone. Capone was a tough one, he first was member of the South Brooklyn Rippers, then the Forty Thieves and later the notorious
Five Points Gang
where, amongst others,
Lucky Luciano
and
Frankie Yale
were part of.
Capone started to hang out with Frankie Yale, one of Torrio's closest associates. At the recommendation of Johnny Torrio, Yale gave Capone a job as a bartender at his cafe in Coney Island. One day in 1917 a young couple sat at a table and the girls beauty was soon noticed by Capone. He leaned over and said "Honey, you have a nice ass and I mean that as a compliment". The guy with her was her brother Frank Gallucio, he was angered with the disrespect of Capone and hit him in the face. Capone flew into a rage and Gallucio pulled out a knife to defend himself, he hit Capone 3 times before leaving the cafe. The wounds healed well, but the cuts left an ugly scar on his cheek, leading to his infamous nickname 'Scarface'. Capone's insult caused a bit of an uproar, Gallucio went to Lucky Luciano with his grievance and Lucky went to Franky Yale. Al four men came together and Capone was forced to apologize.
Chicago
At the age of 19 Capone dated a girl named Mae Coughlin. In 1918 they had a son named Albert Francis Capone. After the birth of his son, Al and Mae got married. With a respectful wife and a son Al thought it would be better if he started to work in legit business. He stopped working for Yale and moved to Baltimore were he worked in a construction firm. But when Al's father died in 1920 by heart disease, Al stopped his legitimate career. Capone resumed his relationship with Johny Torrio and was brought over to Chicago. In Chicago Torrio had built himself a huge empire with the help of
Big Jim Colosimo
, who owned one of the best nightclubs in town and led a prostitution ring. Big Jim however made a mistake when he divorced his wife, who happened to be family of Torrio, and married a young singer called Dale Winter. Torrio then decided to get rid of Colosimo and take over his empire. On May 11, 1920, Big Jim was assassinated at his house, most likely by the hands of Frankie Yale.
Cicero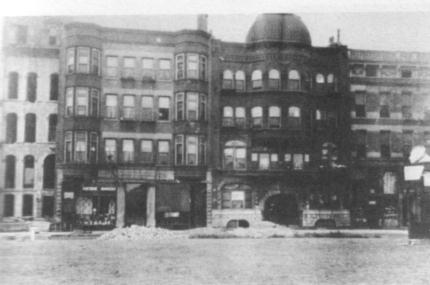 The Four Deuces
Capone took over as manager of the Four Deuces, Torrio's headquarters in the Levee area. Soon his brother
Ralph Capone
came to join him. When Torrio and Capone opened a brothel in Cicero, Al's brother
Frank Capone
also came to join them. On election day in 1924 things got ugly. Capone kidnapped opponents' election workers and threatened voters with violence. The Chicago chief of police rounded up seventy nine cops and provided them with shotguns as they rode to Cicero. In the meanwhile Frank Capone just finished negotiating a lease, as he walked down the streets of Cicero. The police convoy passed by him and one of the cops recognized him. Immediately the cops stopped and shot him down. Later the cops referred to it as 'Self Defense'. Al was enraged and escalated the violence by kidnapping officials and stealing ballot boxes. One official was eventually murdered. When it was all over, Capone had won his battle for Cicero, but at the cost of his brothers life.
Capone's temper stayed under control for about five weeks until his good friend
Jack Guzik
was assaulted by a man named Joe Howard, a small time thug. Capone went to see Joe Howard who then also insulted Capone to be a "dago pimp". Capone became furious and shot Howard dead. This lead to William H. McSwiggin, 'The hanging prosecutor' who wanted to take down Capone, but he failed in his task as every witness 'suddenly' got amnesia. When Capone reached the age of 25 he was one of the most successful criminals of his era.
Battling the North-Siders
Over the years the Torrio-Capone organization made allies all over Chicago. These included the
Genna Brothers
and
Joe Esposito
. However, they also started to have troubles with 2 other gangs, namely the North-Siders under
Dion O'Bannion
and the West-Siders under
Klondike O'Donnell
. During the early 1920's problems with Dion O'Bannion started to grow. O'Bannion had a burgeoning bootlegging and florist business. He was also known for his bizarre behavior which included gunning down a man in front of crowds of people for no reason at all. When
the Genna Brothers
got in trouble with O'Bannion, Torrio had to step in. O'Bonnion then offered to retire to Colorado if Torrio bought out his interest in the Sieben Brewery. Torrio accepted and Dion arranged to close the deal at the brewery. However, it was an ambush as police suddenly raided the place. Not only did Torrio end up in jail, Dion kept the money and even bragged about how he tricked Torrio. Dion's fate was sealed.
Mike Merlo, the head of the Unione Siciliana in Chicago, a group that provided national cover to gangsters of that era, died of cancer in 1924. A huge funeral was planned in which Dion, florist to the gangs, naturally had a large role. Yale and Torrio agreed that
Angelo Genna
would take over Dion's business in Chicago. 10 November 1924, 2 Days after Merlo's dead, 3 gunman entered Dion's flower shop. Dion walked over to the men and wanted to shake hands, but as they came closer Dion realized they weren't the average customer. There were 6 shots fired and Dion was killed at the scene. The gunmen were believed to be
Albert Anselmi
,
John Scalise
and probably
Frankie Yale
. None of them ever came to trial.
The murder of Dion O'Bannion was a celebration for Capone and Torrio. But still there was danger. Dion's gangmembers
'Hymie' Weiss
and
Bugs Moran
were now after them. Two years had passed and the 2 Dion associates had made a dozen murder attempts on Capone. Capone never went anywhere with at least 2 bodyguards and only traveled by night in his car. In January 1925 Torrio was shot by Moran and Weiss when he just returned from a shopping trip with his wife. After he was released from the hospital, Torrio was sentenced for the Sieben brewery raid. Torrio sat his time and recovered from his wounds, however, he also realized it was time to move away from Chicago. Torrio went back to Italy and left his apprentice Capone in full charge of his business. But this didn't keep the North Siders for attacking the Capone gang. They already had successfully killed most of the
Genna Brothers
and had almost killed Johnny Torrio.
Removing all enemies
In December 1925 Yale invited Capone to New York to have a Christmas celebration at the Adonis Club. During that same night a rival gang leader by the name of
Richard "Peg-Leg" Lonergan
entered the club with a couple of his thugs. As Yale and his guests were drinking and having fun, they started to challenge Lonergan who was seated a bit further. Things got worse when Lonergan started to insult the Italians back. Lonergan never left the club alive. The Adonis Club Massacre was front paper news and with this Capone also started to get fame in New York.
Problems for Capone didn't end as he was soon to be suspected for the murder of the Young "hanging" prosecutor William McSwiggin. During an ambush on Klondike O'Donnel Capone's gunmen accidentally killed McSwiggin, who happened to be accompanying the Irish gangleaders. Capone, who was well liked with the Chicago public, was now suspect nr. 1 and his good reputation began to vanish. During that same year in September, an East-Side crew under
Hymie Weiss
entered Cicero and opened fire at Capone's headquarters. Capone himself was not injured but did realize the threat Weiss formed. It is also said that Hymie Weiss was the only man from whom Capone was afraid off. On October 11 Hymie Weiss was ambushed as he was crossing the street, and was gunned down together with his bodyguard. Also former mentor and New York crime lord Frankie Yale started to form a problem to Capone. Capone was informed that Yale was betraying him by hijacked trucks and then selling them back to him. Arrangements with Yale's second in command,
Augie Pissano
, were made and on July 1, 1928, Yale was lured outside his house with the story that his daughter was sick and was at the hospital. He rushed to his vehicle but was suddenly crossed by another car holding Capone's gunmen. After a high speed chase Yale was shot and killed in his car. It was the first time that a murder occurred with the infamous Thompson machine gun in New York.
St. Valentine's Massacre
After Hymie Weiss was murdered the threat of the North-Siders didn't stop. The gang was violent and would not stop until Capone was out of the way. Capone then appointed
Jack McGurn
to orchestrate a scheme to wipe out the North-Siders, which were now under the control of
Bugs Moran
. He was known to publicly talk against Capone and maintained a sense of spiteful arrogance that was said to anger Capone so much that Moran became one of Al's routine topics of discussion. On Valentine's day, 14 February 1929, Moran and a couple of his men were invited to the S.M.C Cartage Co. garage to go and discuss bootlegging business. Moran was late that day so the others already went inside. A couple of minutes later Capone gunmen, dressed like officers, entered the garage and ordered the men to go stand in front of the wall. Within seconds the men were all gunned down by machine gun fire and died at the spot. The 7 murders would become known as "the St. Valentine's Day Massacre" and is one of the most famous mass murders in American history. Moran himself escaped the massacre but important men, including
Frank Gusenberg
, were now gone. The North-Siders gang lost authority and slowly vanished. Morano himself was later on arrested for bankrobbery and died in 1954. Capone on the other hand was successful in any way and his empire was worth over $62,000,000 in 1929. The St. Valentine's Day Massacre received national attention and Capone was glamorized in books and newspapers across the country.
Capone's Kingdom: The Lexington Hotel
Sometime later Capone decided to leave Cicero and to move in the Lexington Hotel, a massive building which was built as one of Chicago's first high-rise luxury hotels in 1893. One of the first guests was President Grover Cleveland. Over the years the nature of the neighborhood shifted and the Lexington changed from luxury hotel to traveling businessman's hotel to single-room occupancy hotel. The hotel's most notorious resident, Al Capone lived and worked in a series of suites on the third, fourth and fifth floors from 1928 until he was convicted of tax evasion in 1932. In the final decades the hotel steadily deteriorated into a flophouse until it was declared unsafe for occupancy and closed in 1980. Despite its landmark status, the building was demolished in 1995 after repeated unsuccessful attempts at renovation. In the Lobby of the Lexington Hotel,
Tony Accardo
would reputidly sat in a chair with a fully loaded Thompson machine gun on his lap.
Louie Campagna
, another one of Capone's bodyguards, would sleep on a cot beside Al's suite door at night with two automatics, ready to protect the boss.
Downfall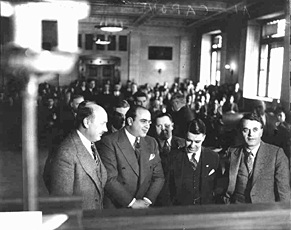 Capone in court
The publicity made round Al Capone ultimately backfired and attracted the attention of President Herbert Hoover. Having just started his presidential term, Hoover demanded that Capone be brought to justice. Andrew Mellon, the Secretary of the Treasury, was pressured by Hoover to spearhead the government's battle against Capone. Mellon collected harsh evidence against "Big Al" which exploited his gang affiliations, bootlegging, prostitution rings, and flagrant evasion of taxes. In 1929 - 1930 Al Capone served 10 months in jail for possession of a concealed weapon. The government couldn't catch Capone with something that would put him away for a long time. The federal income tax laws then allowed the federal government to pursue Capone on tax evasion, their best chance of finally convicting him. By this time, Al Capone was known as Public Enemy Nr. 1 by the FBI. Bugs Moran was also on the list before he was captured, he filled the 6th place.
Pursuing Capone were Treasury agent
Eliot Ness
and his hand-picked team of incorruptible U.S. Prohibition agents, "The Untouchables", and internal revenue agent Frank Wilson of the Treasury Department's Bureau of Internal Revenue. During a routine warehouse raid they discovered in a desk drawer what was clearly a crudely coded set of accounts. Ness then concentrated on pursuing Capone for his failure to pay tax on this substantial illegal income. This story has become a legend and the subject of books and films.
Capone was tried in a federal court in Oktober, 17, 1931. Al Capone was found guilty on five of twenty-two counts of tax evasion for the years 1925, 1926, and 1927 and willful failure to file tax returns for 1928 and 1929. Al went furious when he heard the court sentenced him for 11 years in a federal prison and 1 year in a county prison. The judge refused to allow Capone to be released on bail. On May 4, 1932, Capone began serving out his federal prison sentence at Altanta. Capone quickly flaunted his power and started to again have the ability to dictate his privileges. He was given unlimited access to the Warden, and was said to maintain large reserves of cash hidden in his cell, often generously "tipping" guards who would assist him by yielding to special requests.
In 1934, Attorney General Homer Cummings along with Sanford Bates, the head of the Federal Prisons, made arrangements to send Capone to a facility where he would be unable to leverage the system. Alcatraz was the perfect answer to a problem that no one could seem to control. Capone was sent to Alcatraz in 1934, but it wasn't an easy period there. Capone had no privileges and was stabbed ones by an inmate. Capone ones said to the warden: "It looks like Alcatraz has got me licked.". In 1939 Capone had fulfilled his prison term and was released from jail. Al Capone died on January 25, 1947, in his Palm Beach Mansion from complications of syphilis.
(Source: alcaponemuseum.com, chicagohs.org, alcatrazhistory.com, crimelibrary.com, prairieghosts.com, "Capone: The Life and World of Al Capone" by John Kobler, "The Outfit" by Gus Russo, "Al Capone: a biography" by Luciano Iorizzo)