Beginning
Abraham Reles, the son of Jewish-Austrian immigrants, was born in the Brownsville section of Brooklyn, in New York City. Growing up in poverty, it was not long before he embraced a life of crime. Stories of successful Jewish gangsters inspired him on his path toward wealth, fame, and ultimately destruction.
Physically, Reles was short, but had long arms that ended in hands with short, stubby fingers. His small size, however, did not at all detract from his ruthless violence. When carrying out hits, his weapon of choice was an ice pick (which he would spear through his victim's ear right into the brain). Reles became so adept at using the ice pick that many of his murder victims were thought to have died of a cerebral hemorrhage.
Reles reportedly got the nickname "Kid Twist" after an earlier vicious New York killer
Max "Kid Twist" Zwerbach
. Another theory behind the moniker is that it was the name of his favorite candy.
Murder, Inc.
During the Prohibition days of the 1920s, while still teenagers, Reles and friend
Buggsy Goldstein
went to work for
the Shapiro brothers
, who ran the Brooklyn rackets. Soon, the duo were committing petty crimes for the brothers. On one such occasion, Reles was caught and sentenced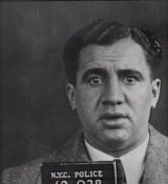 to two years in an upstate New York juvenile institution. The failure of the Shapiro brothers to come to the aid of their employee would prove fatal later on.
Reles became known as a particularly cold-blooded and psychopathic murderer when he, in broad daylight, killed two black men: one, at a car wash, for failing to clean a smudge from the fender of his car; the other, for failing to fetch his car fast enough from a parking lot.
After his release, Reles resumed his friendship with Goldstein, and together with George Defeo they entered the slot-machine business, the province of the Shapiro racket. Through Defeo's connection with
Meyer Lansky
, Reles and Goldstein were able to make a deal with the influential crime lord; Lansky did not have access to the poorer neighborhoods of Brooklyn and thus agreed to the deal. Both parties prospered: Lansky was able to get a sizeable foothold into the Brownsville, East New York, and Ocean Hill neighborhoods, while Reles gained the backing he needed to keep both his business and himself alive.
The slot-machine business thrived, and soon Reles and Goldstein were on the Shapiros' hit list. One night, the two men received a phone call from a "friend" saying that the Shapiros had left their East New York headquarters. Hopping into their car with Defeo, they headed to East New York, but it all turned out to be a ruse. Once they reached the building, they were greeted by gunfire. Reles and Goldstein were hurt. Meyer Shapiro abducted Reles' girlfriend (who was walking down the street) and dragged her to an open field, where he beat and raped her.
To avenge the rape, Reles enlisted the help of fellow Murder, Inc. killers
Frank Abbandando
and
Harry Maione
, who also wanted to kill the Shapiro brothers in order to get a piece of their action. After several futile attempts by each side to eradicate the other, the Murder, Inc. group finally caught up with Irving Shapiro. Reles dragged him from the hallway of his home out into the street, where he beat, kicked, and then shot him numerous times. Two months later, Reles met Meyer Shapiro on the street and shot him in the face. Another three years elapsed before the last Shapiro brother, William, was abducted off the street and taken to a gang hideout. He was nearly beaten to death, then stuffed in a sack and driven out to the Canarsie section of Brooklyn, where he was buried. Before the gang could finish their work, however, a man spotted them and they fled the scene. Shapiro's body was exhumed and taken for an autopsy, which determined that he had been buried alive.
Government Informant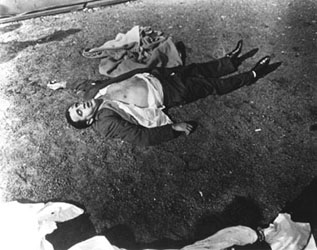 In 1940, Reles was arrested on the orders of Kings County District Attorney William O'Dwyer and implicated in a number of killings. Realizing that he faced execution in the electric chair at
Sing Sing
, Reles decided to become an informant. The information Reles disclosed to the D.A. on 16 May of that year about the murder of Brooklyn candy store owner Joseph Rosen was enough to send his boss,
Louis Buchalter
, to his fate in the Sing Sing death house. Slowly but surely, Murder, Inc. began to unravel as O'Dwyer, using Reles' testimony, prosecuted Louis "Lepke" Buchalter,
Harry "Pittsburgh Phil" Strauss
, Mendy Weiss,
Harry "Happy" Maione
,
Frank "Dasher" Abbandando
, and even Reles' childhood friend
Buggsy Goldstein
, and sent them all to sit upon "Old Sparky" in Ossining, New York.
During one of his discussions with prosecutors, Reles described a typical murder:
"Pep has an ice pick. Happer has meat cleaver. It is the kind you chop with, you know, butcher cleaver. Abby grabs Rudnick by the feet and drags him over to the car. Pep and Happy grab it by the head. They put it in the car. Somebody says "It don't fit." Just as they push the body in it gives a little cough or something. With that, Pep starts with the ice pick and starts punching away at Whitey. Maione says "Let me hit the bastard one for luck." And he hits him with the cleaver some place on the head." Following these convictions, O'Dwyer planned a trial for
Albert Anastasia
, who had been co-chief of operations of Murder, Inc., in order to help his campaign to become mayor of New York City. The trial, based solely on Reles' testimony, was set for 12 November 1941. However, in the early hours of that morning, Reles, guarded by six police detectives, mysteriously plummeted to his death from the window of Room 623 of the Half Moon Hotel on Coney Island. It is not known whether he was thrown or pushed out the window, or if he was trying to escape. The angle of trajectory suggests that he was in fact pushed. It is believed that
Frank Costello
paid the detectives guarding Reles to ensure that he would never testify.
Because of his mob status as a "stool pigeon" and the circumstances surrounding his death, he gained another moniker after his passing. In addition to "Kid Twist," Reles became known as "the canary who sang, but couldn't fly." Reles is buried in Old Mount Carmel Cemetery in the Glendale section of Queens, New York.